Hi everyone! Today has been a pretty relaxing day for me I have been focusing on some "me" time, and working on the blog while sipping hot cider and snuggling up with Tiger & Taz. Which are our two brother cats we adopted 2 years ago. If you have me on Instagram, you're likely to see pictures of the two brothers. I know what your're thinking, I am some "crazy cat lover" haha = ) Follow CLK Fashions on Instagram:
Here!
My favorite look right now is Magenta, Gold, and Baby Blue. The colors go so well together, I just love it! The Magenta colored pants makes it so that blue denim shirt pops!
Bold N' Gold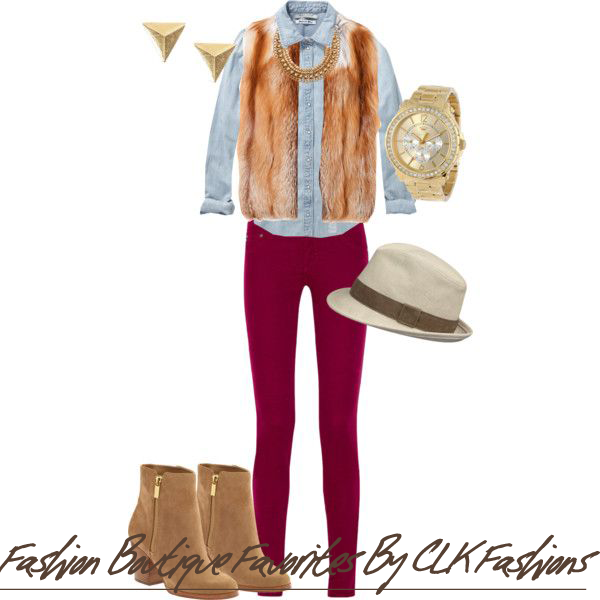 Gold accessories:
My all favorite go to, great for everyday looks
Denim Shirt:
Hot for Spring 2014, you can mix and match and layer different shirts over the top, making it interchangeable with your current pieces from your wardrobe.
Magenta Colored Jeans:
These leggings are a-m-a-z-i-n-g! Super soft, and is one of my favorite colors right now.
Faux Fur:
I think you can tell I am in love with faux fur right now, I had a recent post of me wearing a similar vest, you can see my recent post titled
Faux Fur
Booties:
Brown booties with gold, what more can a girl ask for?
Linking up with
Fashion Informant
,
Simply Lulu Style
Link up Below!
Each week I'll also choose one fashion boutique favorite to feature! To be featured please follow a few simple rules!
Friday's Fashion Boutique Favorites:
A Few Simple Rules
2. Link up your fashion favorites…It could be a photo collage, or outfit post featuring your favorite fashion pieces such as lipstick, tops, bottoms, perfume etc.
3. Link back to CLK Fashions in your blog post!
4.Next simply add your link below! We encourage you to meet other bloggers so don't be shy and say hello!
Grab The Button! = )