Love to shop?? Me too, don't worry though you won't have to go broke while doing so. I created a list of some of my favorite items on sale!! What better way to show you my favorite items on sale? Well of course it's Including the color Radiant Orchid from the Pantone color report for Spring 2014!!
Check it out below....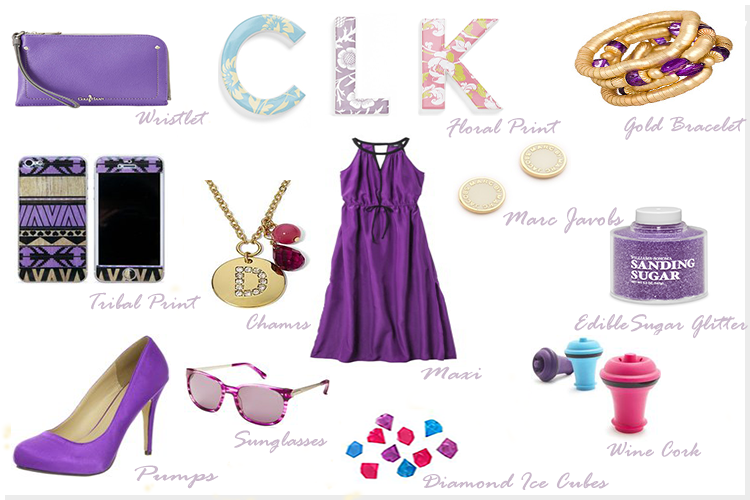 Wristlest
// I love when I don't have to lug around a huge purse when I am out. Instead I Carry a wristlet! $36.99
Floral Print
// Decorate your apartment with these cute, and "chic" floral print letters. $7.49
Gold Bracelet
// Unique gold and purple bracelet. $12.80
Tribal Print
// Show your phone some love. $12.50
Charms
// Jewelery with a personalized touch with cute charms. $4.99
Maxi
// Don't forget your maxi dress this Spring! $29.99
Marc Jacobs
// My "cute little button" earrings. $48.00
Edible Sugar Glitter
// I love decorating cakes, cookies, and cupcakes! $5.00
Pumps
// Style Radiant Orchid colored pumps with white or washed denim capris. $49.99
Sunglasses
// Protect your eyes with these sleek shades. $53.00
Diamond Ice Cubes
// Diamonds are "forever", reusable ice cubes. $4.79
Wine Cork
// Celebrate ladies night with a bottle of Lambrusco. $7.95
Please share!! What are your favorite fashion items on sale right now?
Next Up:
Perfect your skin for Spring!