Hi everyone! I am so excited to share with you this weeks Fashion Boutique Favorites including a guest feature from last weeks linkup.
Earlier on Friday I stopped into
Mom & Pop's Ice Cream
Shop where they offer delicious variety of flavors including Italian ice, and sherbert. They even offer fudge, malts, and floats!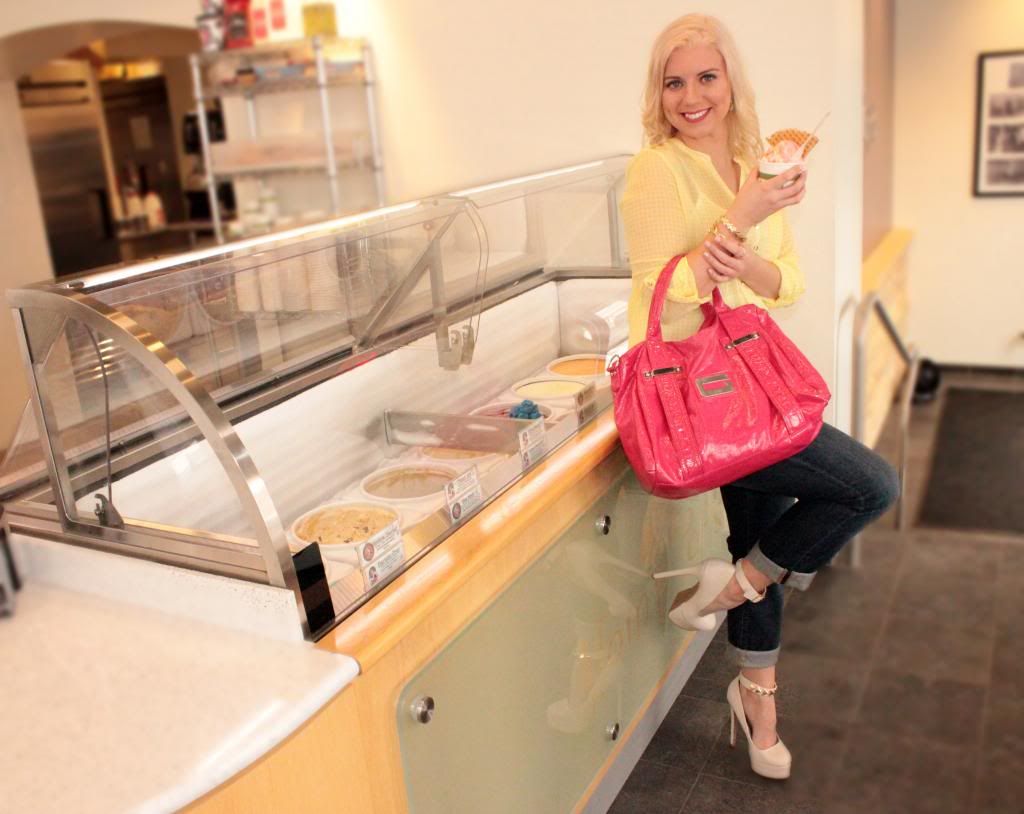 A fun summer blouse, pictured above is in the color freesia which is included in the Pantone 2014 Spring color report.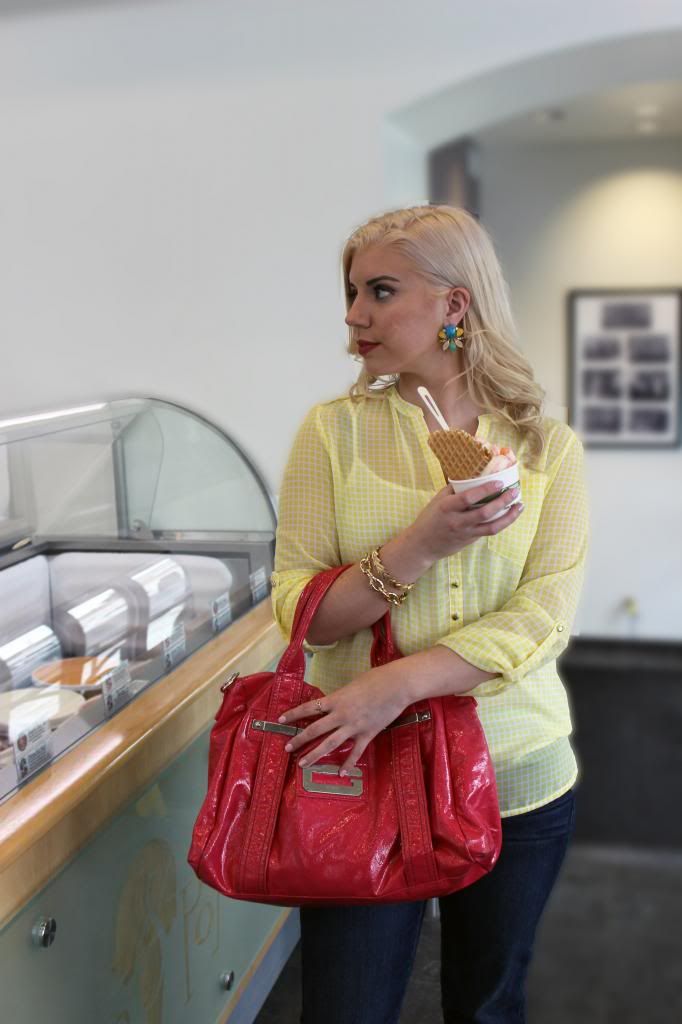 Large studded earrings are a huge hit right now... I found these wonderful blue and yellow studded earrings, and this gorgeous medium chain link bracelet from
Majestical
Jewelery. Both are of high quality, and I can't wait to order more from their shop! For CLK Fashion readers use PROMO CODE:
15DOLLARSOFF
at checkout!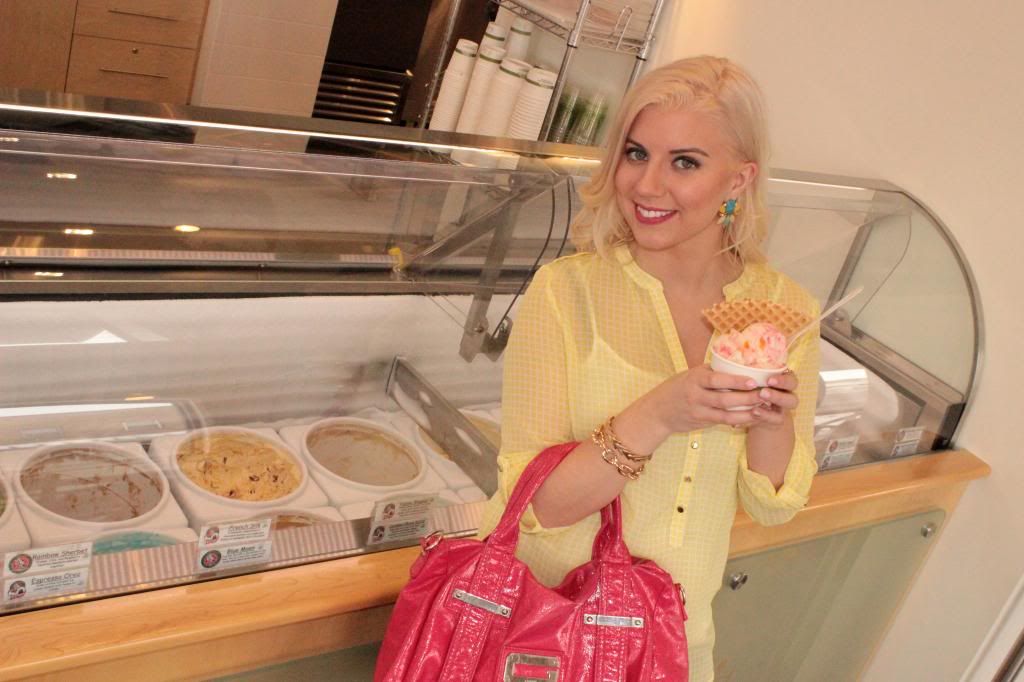 My guess bag is one of my favorite bags I have ever owned it's of such high quality and the color is gorgeous for Spring.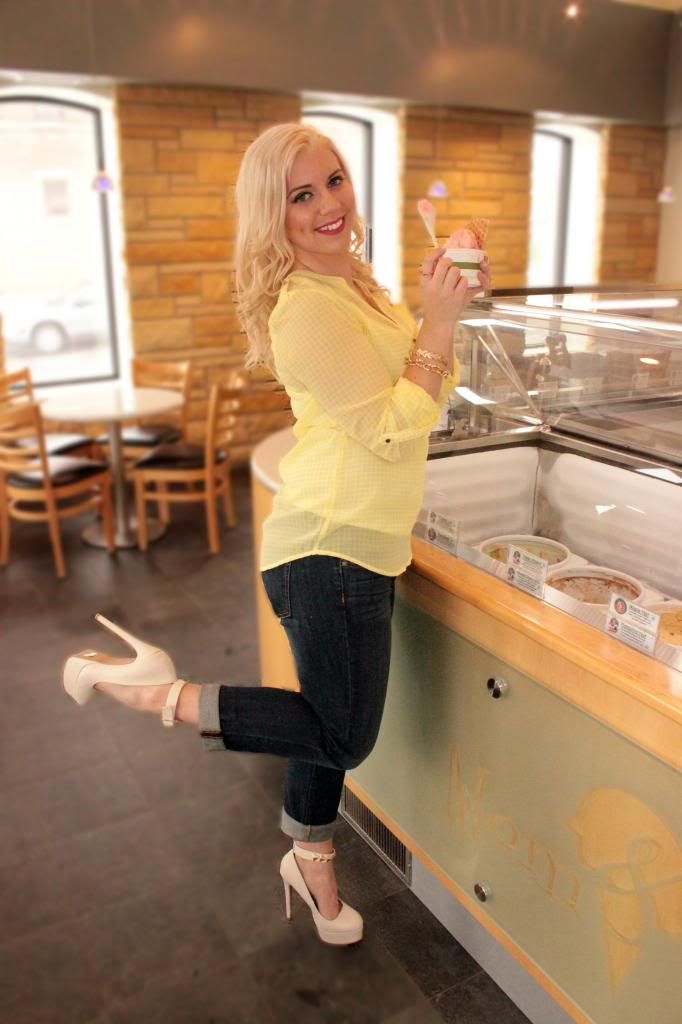 Stilettos
//Gold Chain
Bracelet
//Blue & Yellow Studded
Earrings
//Boyfriend
Capri's
//Yellow
Shirt
(similar)//Guess
Bag
(similar)// Love
Ring
Hair: Jessica Fay
Makeup: Huda Alsadah @ Hudaalsdah68@hotmail.com
Fashion Boutique Guest Feature
: Kate from
Kate Style Petite
Can you tell us about your blog, and what inspired you to start it?
My blog is a digital fashion diary, which challenges me to dress better and inspire others through style.
Where do you tend to buy your clothes, and why?
I'm an online shopping addict. I love british brands because their sizing fits my petite body shape well. Recently, I've been on a thrifting binge - my current favorite is Alexis Suitcase, which sales gently used designer brand clothes.
How would you describe your personal style?
My personal style really depends upon my environment. I love making my going-out-on-the-town looks to be edgy and urban chic, while most of my day-to-day wear is very soft and feminine. I just like feeling put together before I walk out of the house - no matter what it style I'm wearing.
What is your must have fashion piece for this Spring?
This winter has me desperately pining for spring and sandal weather! Wedges are a petite girl's best friend! I can't wait to break out my Shooz on 7 wedges! They'll be up on the blog soon!
Who does your amazing photography?
The key to any blog is great photos. My mom, (
http://www.sidewalkshoes.com/
) who also blogs and is a photographer, and my boyfriend are my two main helpers. Although I've had friends pitch in before too! The trick is having a good camera. I shoot a canon 5d mark ii, which I just set the settings before handing it off and let them click away!
Friday's Fashion Boutique Favorites:
2. Link up your fashion favorites…It could be a photo collage, or outfit post featuring your favorite fashion pieces such as lipstick, tops, bottoms, perfume etc.
3. Please include a link back to this post within your post.
4.Next simply add your link below! We encourage you to meet other bloggers so don't be shy and say hello!
5. If you are interested and would like to Co-Host Fashion Boutique Favorites, email clkfashions@gmail.com for more details!